Khloe Kardashian Just Revealed The 'Therapy' She's Turning To Amidst Tristan Thompson Breakup
It's no secret that Khloé Kardashian hasn't been having a great week. And, really, that's only natural when your boyfriend (and father of your child) cheats on you with your sister's BFF. (Like, seriously?)
Khloé recently shared a message on Instagram Stories about trusting in God, even when you're going through a rough patch in life, and she followed that up with a shot of gym equipment. Over that, she simply wrote "Therapy."
Khloé didn't spell out what she's doing at the gym, but she's likely doing a lot of the same explosive, high-intensity jump exercises that she did after she had her daughter, True, per E!. She also reportedly likes to mix in full-body strength moves with HIIT and opts for cardio on Mondays.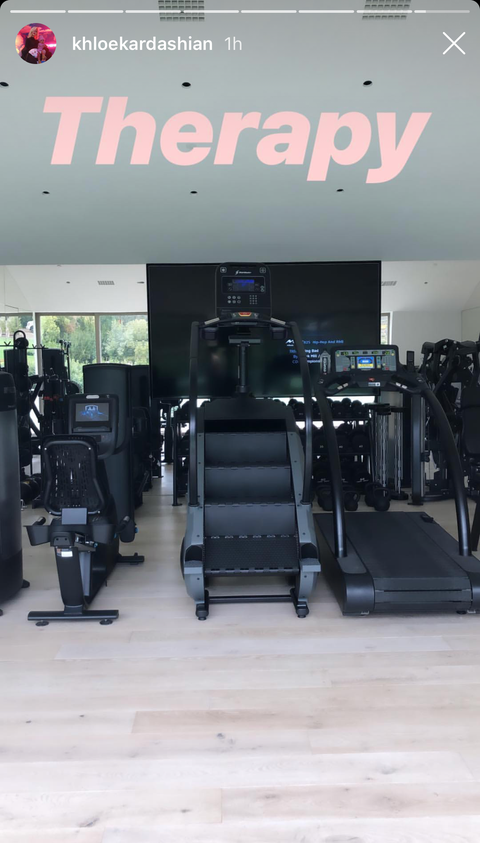 @khloekardashian
This isn't the first time Khloé has turned to fitness to get through a breakup. She talked openly about how much working out helped her when she was splitting from her then-husband Lamar Odom (who also cheated). "It was so therapeutic, and as a by-product I started losing weight," she said in 2017. She ended up losing 40 pounds.
"I was like, 'Oh, okay, I see a little definition somewhere. Let me try to keep this up,'" she said. "Then I got a trainer, and a few months later, a nutritionist. My journey has been a long one, but it's a lifestyle change. I'm not trying to lose 30 pounds in 30 days to prove a point. I want this to be for the rest of my life."
Khloé ended up launching her show, Revenge Body on E!, after her own weight loss transformation to help other women in similar situations.
View this post on Instagram
A post shared by Khloé (@khloekardashian) on
As for the latest drama surrounding her now ex-boyfriend Tristan Thompson? News just leaked about how Khloé found out about his hookup with Jordyn Woods, and it's just really sucky. Apparently Jordyn called Khloé the morning after the party where she hooked up with Tristan. "She said she went there to make sure none of the girls stayed over," a source told Us Weekly. She just conveniently left out the hookup part.
But someone called Kim Kardashian's BFF Larsa Pippen to tell her about the hookup. Larsa told Kim and Kourtney Kardashian, and Larsa and Kourtney called Khloé. (Phew!) Khloé then called Jordyn to confront her, and "Jordyn eventually broke down and admitted that the hookup happened," the source said.
Eventually, Kylie Jenner got wind of her BFF Jordyn hooking up with her sister's boyfriend and kicked her out of her mansion.
View this post on Instagram
Feeling strong and healthy after baby in my @goodamerican coral sports bra and leggings! 💪 New activewear in sizes XS-4XL just dropped on goodamerican.com #GoodSquad #OurBodyOurJourney
A post shared by Khloé (@khloekardashian) on
This is just so…ugh. Here's to Khloé's "therapy" helping her get through this tough time. With her track record, she's going to come out of this drama even stronger.
Source: Read Full Article