Oreo Just Launched A 'Game Of Thrones' Cookie And My Sunday Will Never Be The Same
Oreo is launching special edition Game Of Thrones cookies on Monday, April 8.
The cookies feature embossed logos for the Great Houses and White Walkers.
The eight and final season of Game Of Thrones premiers April 14.
In the greatest news since Oreos (technically) qualifying as vegan, the iconic brand is launching a limited edition Game Of Thrones cookie.
In honor of the show's eighth and final season, premiering on April 14, the new GoT snacks will hit shelves this Monday. So…what makes these cookies so special?
The themed cookies will feature four different embossed designs, for each of the Great Houses battling for the Iron Throne: House Lannister, House Targaryen, House Stark, and the Night King, according to USA Today. You'll also find some White Walker cookies in the mix.
The most epic cookies of all time are here. #GameOfCookies #ForTheThrone
A post shared by OREO (@oreo) on
The packaging has some nice GoT touches, too. It's all black, and "Oreo" is spelled out in the show's iconic logo font.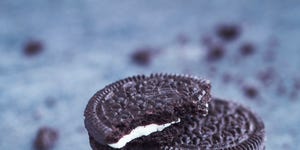 Otherwise…they'll taste exactly like the classic Oreos you know and love. (Hey, nothing wrong with that.)
"At Oreo, we are always looking for new ways to playfully tap into emerging trends and pop culture," Oreo brand manager Kamila De Maria told USA Today. "'Game of Thrones' is one of the most talked about TV shows of a generation, so partnering with HBO was a great way to bring something unexpected to our classic cookie as a tribute to the show's legacy."
The cookies will be available for a limited time, while supplies last, across the country. So go stock up on these treats to serve at your GoT season premier party.
Source: Read Full Article