'Today' Host Dylan Dreyer Just Opened Up About Her Struggle To Have A 2nd Child
Dylan Dreyer revealed she had a miscarriage this past winter on TODAY.
Dylan, 37, also revealed she's suffering from secondary infertility, and is hoping to bring awareness to the condition.
Secondary infertility occurs when a woman has one or more biological children, but struggles to conceive another.
NBC meteorologist Dylan Dreyer just got incredibly candid about her miscarriage and struggles with secondary infertility on TODAY.
This past winter, Dylan, 37, learned she was pregnant with her second child (she already has a two-year-old boy named Cal). She even "jumped into husband Brian Fichera's arms," according to her interview on TODAY.
But Dylan started bleeding not long after she found out she was pregnant—and a trip to the doctor confirmed that she had a miscarriage. "I'm devastated, and I have to go to work on the TODAY Show and be happy and smiling and pretend like nothing's wrong," she recalled thinking.
But there's another piece of the puzzle to Dylan's miscarriage: It happened in the midst of her struggle with secondary infertility, which is why Dylan is sharing her experience now, to bring awareness to the condition.
Calvin is our whole world. Brian and I would love to expand our family and give Cal a sibling, but it's been a lot harder than we ever expected. Coming up on #3rdHourTODAY, we're going to open up about our struggle with secondary infertility. It's a thing and something women shouldn't be afraid to talk about. Be sure to watch and help me open up this conversation. #itsoktobesad (📷: @photonate)
A post shared by Dylan Dreyer (@dylandreyernbc) on
Secondary infertility? What exactly is that?
Basically, secondary infertility occurs when a woman has one or more biological children, but struggles conceive another. Secondary infertility also includes the inability to carry another pregnancy to a live birth, like repeat miscarriages or stillbirths, according to the World Health Organization (WHO).
About three million women in the U.S. suffer from secondary infertility, according to the University of Wisconsin. The causes of secondary infertility are usually the same as those of primary infertility (the struggle to conceive or carry a pregnancy to live birth), and include polycystic ovary syndrome (PCOS), endometriosis, pelvic adhesions, uterine fibroids or polyps, diminished ovarian reserve, low sperm count, and ejaculatory problems, the University of Wisconsin says. A previous C-section, infection, weight gain, and age can also impact this, the organization says.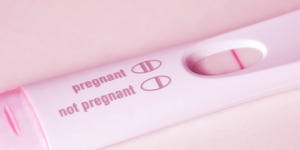 Treatment varies depending on the couple's underlying medical condition, but couples are generally referred to a fertility specialist and both evaluated to try to figure out the cause.
As for Dylan, she found out that she has a low egg count and had an unusual amount of scarring from her emergency C-section with Calvin. "I didn't know secondary infertility was a thing!" she says. She's now debating whether to try to conceive on her own or going through IVF.
Dylan says she wanted to speak out about her struggle to let other women know they're not alone. "I just want people to know that, yeah, I'm kind of going through it with you," Dylan says. "I don't know where this ends."
Source: Read Full Article